A resource center for victims of trafficking and the professionals who accompany or meet them
Mist informs, guides and supports victims of trafficking in accessing their rights. Mist also supports volunteers, social workers or educational teams who accompany victims, through information, training or the setting up of co-accompaniment protocols if necessary.
Information and guidance for victims, reception by peers, support and training for professional.
To make an appointment: contact@mist-association.org
An office for access to rights in the Bois de Vincennes co-hosted by the Mist and the volunteer lawyers of the Paris Bar's Solidarity Bus

In 2003, the Paris Bar Association initiated a large-scale operation involving volunteer lawyers in Paris, in order to help people in precarious situations through free legal consultations, and more particularly via a bus called the "Solidarity Bus". This system makes it possible to hold consultations as close as possible to people who have particular difficulties in accessing the law in the Paris area. Victims of human trafficking are amongst those people who are far from the institutional mechanisms for accessing the law. In order to provide these people with appropriate solutions, the Solidarity Bus has therefore joined forces with the Mist to offer joint offices in one of the main places of prostitution in Paris.
Reception and free legal consultations every other Friday, Bus de la Solidarité, Bois de Vincennes.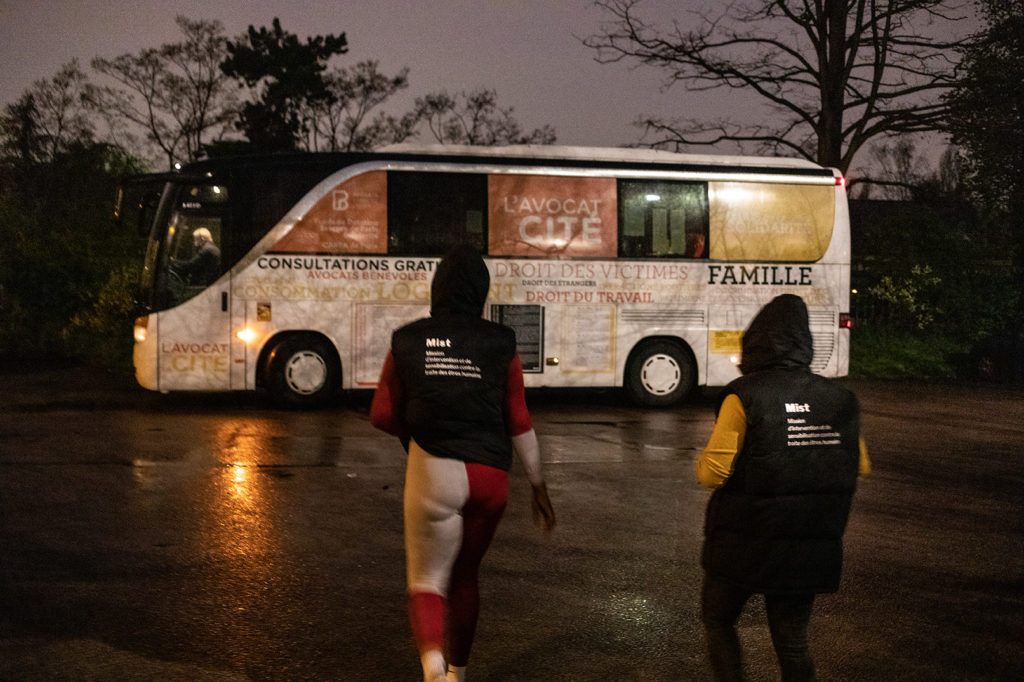 A Mist office at the 18th arrondissement's Point d'Accès au Droit (Law Access Point)

The Point d'Accès au Droit (PAD) is open to all and offers free legal information and consultations, help and support in administrative and legal procedures as well as access to mediation and conciliation. The centre is staffed by specialised lawyers, lawyers from the Paris Bar Association, notaries, legal advisors on access to rights, delegates of the rights defender, and representatives of the City of Paris mediator. The Mist also offers a weekly service for victims of trafficking in human beings for the purpose of sexual exploitation in order to inform them of their rights and support them in their efforts to take action.
Free reception and information every Friday morning, PAD 18e 2 rue de Suez 75018 Paris.

To make an appointment:  contact@mist-association.org
The Mist refers people to the national Ac.sé scheme
The national Ac.Sé scheme offers accommodation and support at a geographical distance from the place of residence of the victim of trafficking who is at risk or in a very vulnerable situation. The national Ac.Sé scheme is an integral part of the protection measures for victims of trafficking in France, as cited in Decree No. 2007-1352 of 13 September 2007 on the admission to residence, protection, reception and accommodation of foreign victims of human trafficking. The Mist is a partner of the national Ac.Sé scheme and is the main referral service in 2020.
Referral to shelter in another region of France and telephone support by peers.